Baby Hampala is one of my favorite fish when I use ultralight setup. As we all aware hampala don't hesitate to run away once they strike.
Imagine 2-3 inches size hampala on ultralight. No words can explain the fun of hunting them. They just wait the victims around fast current area and on the drop normally they will strike and the force although its small it can really be felt on ultralight setup.
Last weekend I went on a fishing trip to Hulu Langat, one of my favorite place for baby hampala.
Continue reading the whole article here:
http://www.kanicen.com/foong-chee-keat-baby-hampala-sebarau-on-kanicen-nix-micro-spoon-and-sailang-ultralight-rod/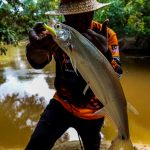 Hey guys! You can call me Kanicen and I'm a nature lover. I spend most of my time outdoor with fishing. I have to admit that I am not an expert but I will do my best to share with you interesting stuffs I know. I love ultralight game which means I live to challenge myself with UNREALISTIC LOGIC for satisfaction.