Going on a fishing trip can be really fun and sometimes we forget things that we supposed to bring which can lead to stressful. We always got caught up with what we need to bring and not to bring. No matter what we need to set a straight mind where light and easy is the most important things for any fishing trip. It will be more efficient and less tiring carrying things that we don't need.
Fishing Gear
When it comes to ultralight fishing it are the simplest things you can compare to any other fishing style. You just need a rod, reel, lines, pliers, hooks (jighead, single hooks, etc.)some baits like soft baits, minnows, spoons and any other relevant baits that suit based on the target fish.
Normally, you just need one full setup for a day fishing trip but it's advisable to prepare a back one in your car just in case. It's also good to keep extra lines for unexpected things.
It's recommended to just bring a simple small box with few compartments to store what you really need for the trip. You don't have to bring all because it will actually burden you and make things more complicated. Make it simple and make it lighter as possible.
Food & Drink
Always bring food and drink for any trip just in case something happened and you are not able to move. But just bring simple food and small bottle drink that you can carry easily. Don't bother to bring all those heavier stuff and unnecessary.
Extra food and drinks you may can leave it in the car.
Conclusion
The best practice is to organize your fishing gears properly based on your target fish and location. Then, list out all the things that you might need then make proper decision whether it's necessary or not. Leave out all those you not going to use. Remember its ultralight fishing guys so make it light as possible.
Things you will definitely need are:
1. Rod – Use one & backup one (leave in the car)
2. Reel
3. Line – Backup lines just in case
4. Short Leader
5. Plier
6. Few pieces of soft baits
7. Few pieces of hard lures (minnows & spoons)
8. Food & Drink
9. Extra Clothes (leave in the car)
10. First Aid Kits (leave in the car)
There you go. All the best and make sure to have fun with lighter fishing trip.
Note:
All information given is based on a best efforts to express our opinions and knowledge that has been acquired. Paragraph or inappropriate words may have been used and it is out of control because we have tried most wisely. If you have suggestions, please comment. We will make changes.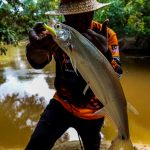 Hey guys! You can call me Kanicen and I'm a nature lover. I spend most of my time outdoor with fishing. I have to admit that I am not an expert but I will do my best to share with you interesting stuffs I know. I love ultralight game which means I live to challenge myself with UNREALISTIC LOGIC for satisfaction.