Antara spesies yang banyak mendiami Sungai Langat, Hulu Langat adalah Seluang, Tengas Daun dan Masai. Saiz biasa yang kita boleh temui sekitar 5-12cm dan saiz-saiz ini jugalah yang sedap dibuat lauk kerana rasanya manis. Suka saya ingatkan spesies ini mempunyai tulang-belulang yang halus dan banyak. Jadi kena lebih peka bila menjamah.
Selain menjala, teknik yang mujarab dan cepat untuk memancing ikan-ikan ini adalah teknik menghanyutkan umpan. Asas teknik ini sama seperti bottom menggunakan batu kecil dan mata kail halus. Cuma kali ini tidak perlu tunggu lama. Teknik hanyut umpan ini juga hampir sama dengan fly fishing.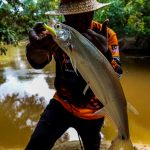 Hey guys! You can call me Kanicen and I'm a nature lover. I spend most of my time outdoor with fishing. I have to admit that I am not an expert but I will do my best to share with you interesting stuffs I know. I love ultralight game which means I live to challenge myself with UNREALISTIC LOGIC for satisfaction.