Di Hulu Langat, Bujuk yang juga dikenali sebagai Forest Snakehead dalam bahasa inggeris atau nama saintifiknya Chana Lucius adalah antara ikan yang mudah ditemui di sepanjang sungai menyusuri perjalanan anda dari Batu 18 hingga ke Kg Kuala Pangsun. Habitat geografinya yang suka pada celahan kayu hanyut, bawah rimbunan rumput yang hidup meliar sekitar gigi air dan kawasan berpaya yang terhasil dari sungai-sungai kecil memaksa saya untuk lebih bekerja keras. Ia juga antara spesies keluarga snakehead yang terkenal dengan kesungguhan asakan luar biasanya untuk melepaskan diri sehinggakan yang bersaiz mega juga mampu menerjah keluar dari air untuk melepaskan gewang yang pastinya menggetarkan adrenalin saya.
Baca cerita selanjutnya di:
http://www.kanicen.com/hairz-zer-kemampuan-soft-bait-grenti-strike-geli-geli-sememangnya-lain-macam/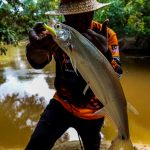 Hey guys! You can call me Kanicen and I'm a nature lover. I spend most of my time outdoor with fishing. I have to admit that I am not an expert but I will do my best to share with you interesting stuffs I know. I love ultralight game which means I live to challenge myself with UNREALISTIC LOGIC for satisfaction.