Sg. Kejar, Royal Belum sememangnya menjadi sebutan bagi kaki casting. Ramai yang telah masuk ke Sg Kejar untuk menduga spesis hampala yang di viralkan dalam media sosial. Kami juga antara yang teracun dengan hampala Royal Belum dan mula membuat planning dari group Caster Community Club dan kali ini kami membawa produk Kanicen Nix. Saya membawa umpan Grenti Strike Spoon Red Eye 5g untuk menguji killer tau tidak di Sg Kejar. Nak cuba nasib di tempat yang berlainan.
Tiba harinya 28/4/2018 kami menuju ke Royal Belum untuk trip 3 hari 2 malam. Kami sampai di jeti dlm jam 6.30am dan sambil menunggu tekong kami mula mengeluarkan barang yang perlu di bawa masuk.
Baca sambungannya di:
http://www.kanicen.com/lyee-caster-spoon-red-eye-beraksi-di-sg-kejar-royal-belum-part-2/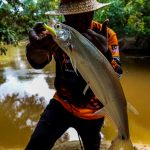 Hey guys! You can call me Kanicen and I'm a nature lover. I spend most of my time outdoor with fishing. I have to admit that I am not an expert but I will do my best to share with you interesting stuffs I know. I love ultralight game which means I live to challenge myself with UNREALISTIC LOGIC for satisfaction.