Usah terhadkan penggunaan setup ultralight anda pada casting sahaja. Kadang-kadang kita perlu ubah mood untuk mencari keseronokkan game ultralight. Membottom adalah salah satu cara teknik pancingan yang kian dilupakan lebih-lebih lagi pada pemancing yang suka teknik casting.
Lokasi
Sampai di lokasi sekitar 6.15 petang. Lokasi yang dituju hanyalah tepi jalan di Parit Dua Timur Sungai Besar dan kawasan berdekatan.
Setup dan aksesori
Penggunaan setup ultralight rod Sailang berskala 2-6lbs dengan panjang 6.6 yang serba-guna memang berbaloi dan mengujakan. Kali ini saya menggunakan reel…
Sila click link dibawah untuk sambungan…
http://www.kanicen.com/ramlan-ramli-trip-membottom-ikan-lampam-menggunakan-setup-ultralight/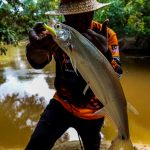 Hey guys! You can call me Kanicen and I'm a nature lover. I spend most of my time outdoor with fishing. I have to admit that I am not an expert but I will do my best to share with you interesting stuffs I know. I love ultralight game which means I live to challenge myself with UNREALISTIC LOGIC for satisfaction.