Reel selection process is also very important so that it can give satisfaction when fighting the fish. With the advent of more modern ultralight reel it has now become more smoothness, various speed, better gearing, tough shaft, durable entirely, improvise  line roller and smoother reel drag but this has caused the reels selection become more challenging.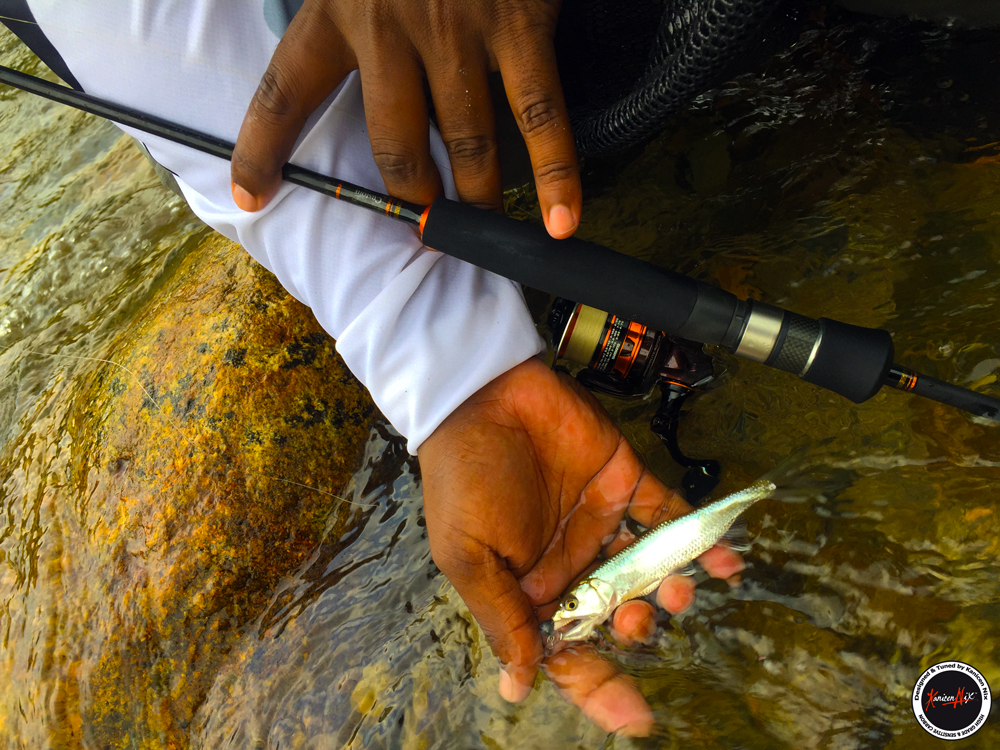 What is the important aspect when buying an ultralight reel?
1. Price
Price is very important if you are still in school/college and did not have enough pocket money. If you want a good reel then save some of your pocket money to buy a reel that can give you a sense of satisfaction.
Normally the price of a reel depends on the technology and materials used. Best in technology will definitely higher in price. But there is also a good technology reel with high quality at a very good price. And please note that most reels available in the market is expensive because of their brand.
So, our advice is to find a reel that suits your pocket. Budget reel can be really good sometimes.
2. Target Fish

Choosing a good reel that suits almost all ultralight game is something impossible to do but an overall reel sound more realistic. Most anglers today will have at least 2 reels which they can use either for salt water or fresh water. As long as you can do this then you just need to adjust it to suit your target fish. It's not only the rod you should match your target fish but also a reel to balance with the rod. No point getting a great rod but the reel is not balance and matching with the rod. The best thing to do is to adjust the reel with a common type of fish you are fishing.
What we normally do is the small size reel for small fish and large reel size for species that have a stronger force.
3. Ultralight Reel Size

Its "ULTRALIGHT" so you got to accept the reel should be as light/small as possible. Period!
Based on experience we would say that reels sizes from 200 to 2000 (shallow spool) are most suitable for ultralight fishing and the maximum drag should balance with the rule of thumb (6lbs) maximum of 2.7kg. It's not easy to find reels below 2.7kg in the market since most manufacturers produced a 3kg drag reel (it's the closest to 6lbs) and above because of the demands. But it should be fine to use even if you set the drag to full force since it won't be a dead drag. Apart from that most reels within these sizes the drag are not solid dead so it hardly do any harm to your setup especially your ultralight rod.
Reels sizes from 200 to 500 normally suitable to combine with rods 6 feet and below since it will nicely balance but do bear in mind it's also depending on your lines, rod action and other factors as well. This is for you to explore and get the best out of it. As for me I would choose all-rounder reel size of 1000 since it's well-balanced with most rods.
Small, light and smooth reels will help you cast your baits a good distance. It also reduces stress to the angler when fishing for a long time. Remember the term "ultralight" it means light as possible. It would be great if you can get a shallow spool reels because most are really light and allow you to cast with ease. Whatever your choice is you need to be sensitive and do research so that your setup is balance and matching with your style of fishing.
So to simplify choose a reel based on (kg) drag first then see whether its match and balance with the rest of your setup. Take time to choose a reel that will give you extra feel when you get it right. Also choose based on your budget and slowly upgrade when you've gained valuable experiences. Remember the rule of thumb is always 6lbs.
By the way, we do understand normally some will say "we are not going to set the maximum drag" even when using 6kg drag reel. Yeah we do know this. Rules of thumb when setting a drag is around 20%-30% but how many of you know this rule? How many of you will always measure it before fishing trip and will always measure during fishing trip? And why on earth manufacturer producing reels with drag below 3kg? And why not making your life easier by balance and matching it. Solve all the hassle. Easy right?
You see… all these refer to only one conclusion and that is "technology"on the old days and present. And that's the main reason arguments exist among anglers . There are many other factors but that's for you to explore and understand it.
Here some of the reels that suit for ultralight fishing:
1. Weebass Mini 2016
2. Abu Cardinal STX & SX
3. Abu Cardinal STX 1000S
4. Daiwa Laguna
5. Shimano Sienna 500
6. Pioneer PT SR-500L
7. Okuma Safina Noir
8. Daiwa Sweepfire 500B
9. Awashima Noble 500
10. Ecooda Cortez CZS10
11. Tomman 500
12. Pflueger 500 Microspin
13. Ryobi mini power 500
14. Shimano Nexave 1000fd
15. Tica Cetus se500
16. Shimano Sedona 500FD
17. Shimano Symetry 1000FL
18. Shimano sahara 500
19. Daiwa crossfire 1000
20. Daiwa Iprimi 1003 2016
21. Shimano Stradic Ci4 Plus
22. Shimano Soare 1000S
23. Shimano Cardiff C2000HGS
24. Shimano Biomaster 1000 FB
25. Shimano Soare C2000PGSS
and many others.
For those who want to use Bait Casting Reel (BC) as finesse fishing for Ultralight game then you can use this:
1. Daiwa Presso (Max Drag – 2lb)
2. Shimano Cardiff DC 50s/51s (Max Drag – 2.5kg)
3. Shimano Stephano Finnese (Max Drag – 3kg)
4. Daiwa Pixy Yellow (Max Drag – 3kg)
5. Daiwa Pixy Red (Max Drag – 3kg)
6. Daiwa Pixy Silver Mica (Max Drag – 3kg)
7. Daiwa Dynastar 150L (Max Drag – 3kg)
8. Abu ambassadeur 1500c (Max Drag – 3kg)
There are lots other reels available or will be available in the market. You just need to google it.
Arguments can never stop between spinning and BC users. Whatever your arguments is please understand the terms ultralight is actually start from spinning. For bait casting (BC) is referred as finesse fishing or also known as BFS which means lures presentation / adjusting your setup (lures, reels, lines) for the target fish. BFS can vary in poundage and is not included in line classification of 6lbs. But ultralight line classification remains 6lbs as a rule of thumb.
Lots of experience anglers able to cast out 2g lure with BC reels of 5kg drag or more but does that mean it falls under ultralight classification? Nope it's not because the rule of thumb is 6lbs so everything got to balance and match. What is the point the manufacturer giving the reel specifications but not following it? And yeah you can control the drag but again what is the point doing that where getting a suitable reel that will give you more thrills, better challenge and fair game? And how many of you will never use thumb to stop fish from running away? Doesn't this add more weight / pressure where it will surely add more force than the reel drag? So, where is the logic its ultralight when you thumb it?
Whatever the reason is just ask yourself is it balance and match to use 7kg drag reels with 6lbs line? If you're looking for satisfaction then you need to make sure everything is properly matched. Many still confuse with ultralight spinning and BFS bait casting. BFS is really wide to explain but it was created especially for the target fish and lure presentation as the basis. So, don't mix it with ultralight. If you want to use BC then make sure to follow the same rule of thumb which is 6lbs.
4. Matching & Balancing
When you purchase a reel make sure it's well-matched with the rod and line that you bought. Make sure you understand the reel specification before deciding to buy one. Usually, you have to understand the given line recommendation so that it matches the game that you are looking for. Make sure the reel drag measured is not over 6lbs if not the percentage you break the line or rod is high.
Matching the whole things is not easy as you think and for me to put it into words also kind of hard because it needs soul to really understand this. But don't worry because through experience you will soon learn how to tune. The more you fish the better exposure you will get. And then you will learn what reel to go with what rod and what line based on your target fish and your fishing area.
5. Reel Types

When buying a reel you need to know whether you want to use it for salt water or fresh water or for some cases both. This is important as not all are suitable for all types of water.
Reels must be properly maintained. Not all reel suitable for all uses, but if you are sensitive in maintenance then you can use it for all kind of fishing game. Reel selection for the intended game is very important because it will bring the best in the game and this is where you get the satisfaction. Choose a reel that allows you to cast the lures with ease and have smooth drag system.
6. Drag
Drag system is one of the most important elements in the reel. If the drag is not smooth it will not give neatness when handling fish. When the drag is not good it will cause the main line breaks easily because there's uneven force (pressure) which can make the main line break with a shock. Smooth drag can provide a great fight with the fish and at the same time it does not harm the rod, reel and also the line.
Smooth drag that balance with the rod and line strength able to give the maximum satisfaction when fighting a fish even if the drag has been fully tightened. Avoid using a reel with a drag that is choppy when fully tightened. This will give the burden to the rod and main line. In worse case when a rod getting a continuous choppy shock (in-balance pressure) it may cause the rod to break. You are lucky if the line break first.
7. Spool
It is important avoid buying a reel that has deep and narrow spool. It can cause issue like line tangle as the line not flowing out from the spool smoothly because lots of friction on the spool itself. Distance also normally affected. Reel sizes from 200-500 usually give this kind of issues.
If you can afford to buy a reel with shallow spool then it will solve most above issues. You will have more fun because allow you to cast out any lures easily. However, the setback not many reels with shallow spool available in the market and even if it's available it's really going to drain your pocket. This is where we have to tolerate and choose a reel that has semi-shallow spool which normally price is within affordable range. In the end what really matters is we able to enjoy the game.
8. Gears & Bearings
The smoothness of a reel depending on the bearings and gears. This is the main difference when fighting a fish. Reel with more bearings decide the smoothness where it reduce the friction between moving parts and while gearing connects the handle to the spool to make a smooth round helping to keep reel moving under loads created from drag and winding.
So, more bearings or fewer bearings better?
Of course the reels with more bearings because it will spin smoother than the less bearing reel. But do take note that NOT all reels with more bearings reflect the quality but most normally are smooth. Even best reels if you are not maintaining it properly it will stop working right.
Avoid buying a reel that has plastic gears. You should never invest even if it's expensive reel. Don't ever be satisfied with the investment for the reel with plastic gears.
Conclusion
To be a successful angler with good catches you need to make sure the combination of reel, rod and main line must be rectified. If you want to hunt for a Indo-Pacific Tarpon then make sure the setup is suitable for tarpon so that you can enjoy the game. Reel with max of 2.7kg with line between 2lbs to 4lbs and moderate action rod with 1lbs-6lbs will be ideal to make a Indo-Pacific Tarpon trip.
Knowing what to do when buying a reel is very important for real satisfaction. Examples Reel A is able to fight mega-sized fish but the main line that was used breaks many times. Many do not realize that not necessarily mainline giving a problem, sometimes drag reel that not smooth also affecting and stress the line to break easily. Normally, it happens after using it for quite sometimes. While Reel B which has a smooth drag able to fight and land a mega-sized fish without breaking the lines. Anyway, this is an example.
Making a wise choice for the targeted species and fishing location is the most important factors when choosing a reel. When you understand the target fish it will help you to choose the best reel. Make sure all the setup such as rod and mainline is in accordance with the reel. Balancing and matching concept has to be taken into consideration because this is the only way to protect your sensitive setup from damage and at the same time it will allow you to get the maximum satisfaction.
Note:
All information given is based on a best efforts to express our opinions and knowledge that has been acquired. Paragraph or inappropriate words may have been used and it is out of control because we have tried most wisely. If you have suggestions, please comment. We will make changes.