Certain ways of angling are at least as rewarding for their technique and style as for the results they have to offer. It's not that we can do without the catch, but the modus operandi can be a delight in itself. Ultralight Spinning has become one of the most used techniques in this generation.
This is perhaps most clearly recognisable in the fine art of fly fishing. But it's just as much the case with ultra-light fishing. This article is about ultralight spinning – the original form of the ultra-light techniques.
– Hans van der Pauw
Download this Waterlog UL Spinning for further reading.
And do read what we are trying to do for the game to grow into a more exciting direction. Read our direction here:
http://www.ultralightanglers.com/about-us/english/our-direction/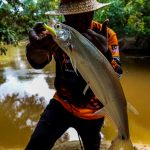 Hey guys! You can call me Kanicen and I'm a nature lover. I spend most of my time outdoor with fishing. I have to admit that I am not an expert but I will do my best to share with you interesting stuffs I know. I love ultralight game which means I live to challenge myself with UNREALISTIC LOGIC for satisfaction.