Jighead handmade tanpa menggunakan dawai dengan hanya menggunakan snap batu ladung dan matakail sahaja. Buatan tangan ini sangat berguna bagi peminat game ultralight fishing yang selalu cukai jighead.
Barang-barang yang perlu disediakan ialah swivel snap, batu ladung, mata kail dan playar. Ikuti langkah-langkah pembuatan handmade jighead ini berpandukan gambar rajah di bawah ini:
1. Sediakan matakail, batu ladung bulat, dan snap.
2. Luruskan snap seperti gambar 2.
3. Masukkan snap yang telah diluruskan ke dalam batu ladung bulat.
4. Gunakan playar untuk melilit lebihan snap tadi ke matakail.
5. Jighead siap untuk digunakan.
* Size swivel snap bergantung pada cara pancingan anda, batu ladung ikut size yang sesuai dengan teknik pancingan anda, mata kail ikut size yang sesuai dengan target ikan anda. Kesemua ini bergantung pada setup yang anda pakai dan kesesuaian SP atau soft plastic anda sendiri.
Credit: Amir Hafiz Musa
Nota:
Segala informasi yang diberi adalah berdasarkan best efforts untuk meluahkan pendapat dan ilmu yang telah diperolehi. Ayat atau perkataan yang tidak sesuai mungkin telah digunakan dan ia adalah luar kawalan kerana kami telah mencuba sehabis baik. Jika ada cadangan sila komen. Kami akan membuat perubahan.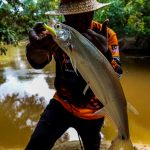 Hey guys! You can call me Kanicen and I'm a nature lover. I spend most of my time outdoor with fishing. I have to admit that I am not an expert but I will do my best to share with you interesting stuffs I know. I love ultralight game which means I live to challenge myself with UNREALISTIC LOGIC for satisfaction.