Fishing is a hobby. People start fishing at a young age and some have been fishing all their lives. Today, fishing is not limited by sex or age. Anyone can fish since it has become a hobby cum sport which has been accepted throughout the world and often practiced as an art. This related to the spirit of the game where it depends on responsibility for fair play between angler and fish. The game has become very competitive for greater satisfaction by having mutual understanding and respect adherence to the agreed rules of thumb and the basic agreement in fishing.
No matter how good and how experienced you are in fishing you need to feel the SPIRIT of THE GAME and to FEEL this you need to be responsible. Be a MAN with CHARACTER AND ATTITUDE.
"Fishing is a Test of Character" – Kanicen Nix
You need to have good characters in order to maintain Spirit of The Game in fishing; because its our hobby. It require ultimate responsibility for fair play to maintain the fun and having mutual respects not only among anglers but also to the nature.
Fishing is "The Game of Attitude" – Kanicen Nix
CHARACTER AND ATTITUDE set the tone to a better fishing and to achieve this we need to have a community that support each other for the sake of improvements in fishing both as a hobby and sport. And to have a good community we need EDUCATION to consistently guiding them to understand the meaning of Spirit of The Game.
Consistent Education Develop Character and Attitude
No doubt human nature is causing all the unpleasant but just in any sport and even in life it's all the same there will be good and bad. But even in the most difficult situations good will always win if we choose to walk that path. Through this balance we are free to demonstrate the most ethical and the most joyous sides of human nature in sport. And that demonstration is called Spirit of The Game.
Good Always Win
Good anglers care about Spirit of the Game. They always understand how to play it and they always understand how to behave. It's all about character and attitude. For others it's never too late to get onboard and express how Spirit of The Game should be.
There are 10 basic guidelines you can do to train yourself to understand the Spirit of The Game and these are:
1. Respect Everyone – The golden rule is to treat others as you would want to be treated.
2. Respect Nature – This is a must have attitude. Stop hurting the world.
3. Real Knowledge – Gain knowledge not only by reading but also on-field.
4. Keep Sharing – Always be generous and share your knowledge.
5. Appreciation – Be generous to appreciate those who work hard. Congratulate them.
6. Keep Inspire – Always inspire everyone with your action.
7. Be Honest – Always honest in everything you do.
8. Do it Right – Keep doing because people will notice.
9. Be Courage – Always be courage to try new things and keep trying. Result will come.
10. Have Fun – Fish hard. Play fair. Have fun.
These 10 guidelines will make you grow not only as an angler but also as a person. Spirit of The Game should be shown throughout the game with excellent attitude. Remember…
Water is Our Stadium
If you feel these will help others please share.
Note:
All information given is based on best efforts to express our opinions and knowledge that has been acquired. Paragraph or inappropriate words may have been used and it is out of control because we have tried most wisely. If you have suggestions, please comment. We will make changes.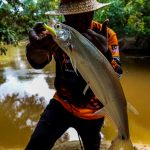 Hey guys! You can call me Kanicen and I'm a nature lover. I spend most of my time outdoor with fishing. I have to admit that I am not an expert but I will do my best to share with you interesting stuffs I know. I love ultralight game which means I live to challenge myself with UNREALISTIC LOGIC for satisfaction.