Santai Ultralight Anglers yang ditubuhkan oleh beberapa pemancing dari Tenom Sabah telah menganjurkan event ultralight pertama di Sabah pada 11 February 2015. Event ini lebih berkonsepkan santai yang bertujuan untuk memperkenalkan sukan mancing ultralight kepada rakan-rakan yang baru berjinak dalam ultralight fishing.
Penganjur: Santai Ultralight Anglers Group. Tenom. Sabah.
Tujuan: Memperkenal dan mendalami UL kepada rakan baru dan lama di samping mengeratkan silaturahim.
Tarikh: 11.2.2015
Peserta: 21 orang sahaja
Sponsor: Tiada. Kewangan dikumpul dari pendaftaran ahli
Hadiah sumbangan individu
Syarat:
1.Menggunakan set UL dan soft plastic Kanicen Nix.
2. Casting sahaja.
Kesimpulan: Secara umumnya peserta baru dapat pengalaman dan pengetahuan tentang UL dengan bantuan rakan UL lama.
Lokasi: Kolam Family Syahbandar, Cinta Mata, Tenom, Sabah.
Masa: 3pm hingga 6pm (3jam)
Aktiviti sampingan:
1. Penerangan ringkas ttg UL/ULC.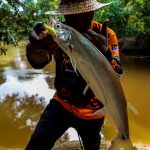 Hey guys! You can call me Kanicen and I'm a nature lover. I spend most of my time outdoor with fishing. I have to admit that I am not an expert but I will do my best to share with you interesting stuffs I know. I love ultralight game which means I live to challenge myself with UNREALISTIC LOGIC for satisfaction.