I just got a question asking me "how to cast accurately using Ultralight Fishing Setup"?
1. Practise make perfect
2. Balance and matching of your setup
3. Creativity in adjusting
4. Understand your body
5. Understand the wind direction
6. Understand the bait weight
7. Understand your reel
8. Understand your rod
9. Understand your fishing style
10. Understand your bait patterns
11. Relax and enjoy.
For me it's your soul to feel the direction you want the lure to be sent. Feel it, imagine it and let it flow.
These will be my quick answers for all Ultralight fishing enthusiasts. Please share if you feel this will help others.
Good luck guys 🙂
Original article from:
http://www.kanicen.com/how-to-cast-accurately-using-ultralight-fishing-setup/
Note:
All information given is based on best efforts to express our opinions and knowledge that has been acquired. Paragraph or inappropriate words may have been used and it is out of control because we have tried most wisely. If you have suggestions, please comment. We will make changes.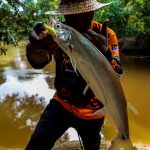 Hey guys! You can call me Kanicen and I'm a nature lover. I spend most of my time outdoor with fishing. I have to admit that I am not an expert but I will do my best to share with you interesting stuffs I know. I love ultralight game which means I live to challenge myself with UNREALISTIC LOGIC for satisfaction.