Ada orang cakap senang je mancing haruan ni. Nak cakap salah tak jugak, nak cakap betul pun tak jugak. Bagi saya kadang-kadang boleh kecewa apabila apa yang dicari terlucut depan mata. Lagi geram apabila saiz pula memang saiz idaman. Geram sampai bawak balik motor masih terbayang-bayang di kepala situasi yang terjadi. Aduhhhh…
Sepanjang perjalanan balik memang ada rasa tidak puas hati. Betullah apa orang cakap; kalau da nama gila mancing ikan apa pun terlucut memang akan terbayang-bayang. Lagi-lagi apabila kita tahu saiz tu memang besar.
Boleh dikatakan hampir setiap hari, saya akan keluar memancing ikan Haruan selepas selesai menunaikan solat Asar di rumah. Tempoh masa kurang dari 2 jam bagi saya lebih dari mencukupi kerana lokasi-lokasi yang menjadi sasaran saya terletak tidak jauh dari rumah. Saya gemar membawa set Ultralight sahaja kerana lebih praktikal dan senang untuk dibawa ketika menunggang motorsikal.
Baca sambungnya di link:
http://www.kanicen.com/mohd-huzairy-aktiviti-waktu-petang-mencari-ikan-haruan-menggunakan-sailang/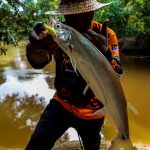 Hey guys! You can call me Kanicen and I'm a nature lover. I spend most of my time outdoor with fishing. I have to admit that I am not an expert but I will do my best to share with you interesting stuffs I know. I love ultralight game which means I live to challenge myself with UNREALISTIC LOGIC for satisfaction.