Jom memahami apakah kelebihan dan kekurangan membuat custom assist hook. Adakah ia lebih berbaloi atau anda lebih suka membeli untuk tidak pening kepala?
Kelebihanya:
– Menjimatkan.
– Kosnya hampir 50-70%.
– menjimatkan.
– Anda boleh mengikatnya mengikut panjang serta menyuai padankanya dengan saiz/panjang jig anda, ini kerana selalunya jig anda diserang pada kedudukan yg hampir sama, ketahui lah bahawa ikan seringkali menyerang mangsanya dr bahagian kepala atau pun ekor, jadi sebaik2nya kedukan mata jig anda harus berada dipertengahan jig (seperti dalam bulatan merah pada gambar).
– Kepuasan.. pasti ada,rasa puas jika mata kail yg di ikat sendiri berjaya menumbangkan mangsa, lagi2 saiz yg besar.
Kekuranganya:
– Menyusahkan.. terpaksa dikat sendiri, buang masa dan menyakitkan tangan.
– Lucut jika ianya tidak ikat dengan betul.
Mode jigging on ✅
Kredit: Indra Irwan Ismail (Daiwa Malaysia Ambassador)
Nota:
Segala informasi yang diberi adalah berdasarkan best efforts untuk meluahkan pendapat dan ilmu yang telah diperolehi. Ayat atau perkataan yang tidak sesuai mungkin telah digunakan dan ia adalah luar kawalan kerana kami telah mencuba sehabis baik. Jika ada cadangan sila komen. Kami akan membuat perubahan.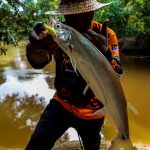 Hey guys! You can call me Kanicen and I'm a nature lover. I spend most of my time outdoor with fishing. I have to admit that I am not an expert but I will do my best to share with you interesting stuffs I know. I love ultralight game which means I live to challenge myself with UNREALISTIC LOGIC for satisfaction.