To All Our Fishing Buddies / Followers / Supporters
No matter who you are we RESPECT you because we share the same hobby "Fishing". You EARNED our respect and we SALUTE you for being a true friend. We are brothers and sisters.
THANK YOU FOR BEING MY FRIEND!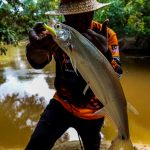 Hey guys! You can call me Kanicen and I'm a nature lover. I spend most of my time outdoor with fishing. I have to admit that I am not an expert but I will do my best to share with you interesting stuffs I know. I love ultralight game which means I live to challenge myself with UNREALISTIC LOGIC for satisfaction.