Ikan Sebarau menjadi idaman pemancing aliran jeram kerana kekuatannya yang berbeza jika dibandingkan dengan spesis lain yang mendiami sungai. Ia mempunyai sikap menghentam gewang dan melarikannya ke lubuk atau reba yang didiaminya.
Trip kali ini kami turun dengan umpan Silau keluaran Kanicen Nix untuk menduga ikan sebarau di salah satu sungai yang berada di Negeri Perak. Ia digabungkan dengan setup rod Kanicen Nix – Kaki Bako dan tali pancing keluaran Kanicen Nix yang diberi nama Halus.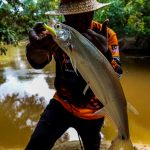 Hey guys! You can call me Kanicen and I'm a nature lover. I spend most of my time outdoor with fishing. I have to admit that I am not an expert but I will do my best to share with you interesting stuffs I know. I love ultralight game which means I live to challenge myself with UNREALISTIC LOGIC for satisfaction.