Dengan sukacitanya kami telah pun membuat keputusan untuk Online Ultralight Anglers Competition. Kami sebulat suara memilih: / We are pleased to announce that we already made decisions on the winners:
Pemenang Pertama / First Place: Sn Shee
Dipilih kerana: Hasil tangkapan gambar yang sangat memikat hati. gaya sporting, antara penyokong setia di group ul, gambar ikan pelbagai species yang juga sangat menarik, slogan yang memuaskan, menepati rules contest. Pemenang dipilih kerana lebih ketara dengan gambar yang penuh dengan seni.
Chosen because: The photo taken is very attractive, great style, images of various species of fish that are also very interesting, satisfying slogan, meet contest rules. Sn Shee is selected as a winner because the picture is full of art.
CONTEST BAKO-MEMBAKO

Name profile FB: Sn Shee

Rod: Major Craft Zaltz 8'3″ 1-5lb
Reel: Shimano Stardic 1000FA
Mainline: Berkley Nanofil 4lb
Leader: Pioneer Invisible 8lb
Species: Platychepalus Indicus (Bartail Flathead)
Lure: SP grub curly 40mm 3g jighead
Slogan: "I like to show off my catch because it show my passions towards fishing, where some people say its a hobby but for me its more than just a hobby, fishing brought peace, making friends, increased our courage & patience! most importantly we managed to adapt many teachniques & skills in fishing by learning their behaviour & diet either by ur self, other anglers storys or mythos! ??"
Hashtag: #ultralightanglers #ultralightangling #ultralightfishing #kanicennix #grentistrike #bakomembako #bnanglers #laukapparel #shimanofishing #zherofishing
———————-
Pemenang Kedua / Second Place: Danny Dominic
Dipilih kerana: Pemilihan tempat kedua agak sengit kerana kami terpaksa memilih di antara beberapa pemancing lain seperti Zafri Angler, Izdar Radzi, Wan Dmatalensa, Angelo Francioso, Khairul Azwan Hasbor dan Amzar Syazani. Namun gambar Danny Dominic menampakkan seni dimana pantulan awan di air memberi kelebihan markah. Gambar yang clear tanpa edit, kreatif dan menepati rules contest.
Chosen because: Selection of second place quite intense because we had to choose among several others like Zafri Anglers, Zdar Radzi, Wan Dmatalensa, Angelo Francioso, Khairul Azman Hasbor, Encik Afiq and Amzar Syazani. But the cloud reflections in the water gave Danny Dominic favorable marks. A clear image without edit, good manners in handling the fish and meet the contest rules.
CONTEST BAKO_MEMBAKO

Nama profile fb: Danny Dominic
Rod: Pioneer crossfire 2-6lb
Reel: Pioneer Sirius lite SR 500L
Mainline: berkley nanofil 6lb
Leader: berkley vanish 10lb
Species: barramundi 1.3kg
Lure: unknown minnow
Hashtag: #ultralightanglers #ultralightangling #ultralightfishing #kanicennix #gerentistrike #bakomembako
Slogan: "saya suka bako membako drag reel yang menjerit-jerit ketika strike ".
———————-
Special Prize: Ambe Anok Wek Je
Dipilih kerana: Pemilihan special prize adalah kerana usaha dan semangat saudara angler kita ini walaupun berada di kalangan OKU. Inilah dikatakan hobi murni untuk semua golongan tanpa sebarang agenda dan mengejar status sifu, master atau otai. Mancing tidak mengira semua itu. Hebat mana pun jika tiada rezeki maka tiadalah hasil. Salute you bro 🙂
CONTEST BAKO-MEMBAKO

Nama profile FB:Ambe Anok Wek Je
Rod:Meggie 1-6
Reel: Tica Cetus ss500
Mainline: Jixmax 6lb
Leader: Sasame ninja 12lb
Species:Haruan
Lure:Tikus Bogel Handmake 2.5cm
Hashtag: #ultralightanglers #ultralightangling #ultralightfishing #kanicennix #grentistrike #bakomembako #KeepItUp #DontGiveUp #KumpauBiase #StrikeLuarBiase #SepKucar
Slogan: "Saya suka bako-membako kerana kehangatannye ketara pagi2 dh rasa panassssss jeeee ??…"
——————-
Pemberian markah diberi melalui / Marks are given based on:
1. Gambar Cantik / Beautiful Photos
2. Slogan Menarik / Good Slogan
3. Likes
4. Gambar Yang Sporting / Sporting Photos
5. Ikut Rules / Follow rules
6. Like Kedua Dua Page / Like both pages
7. Komen dan like gambar rakan lain / Comment and like other friends photo
8. Adap dalam keseluruhan / Manners in Everything
9. Setup Balance dan Matching / Setup balance and matching
10. Kreativiti / Creativity
Kami juga tertarik dengan beberapa penyertaan seperti Encik Afiq yang telah menghantar 7 penyertaan. Angler yang sangat sporting. Terima kasih 🙂
Disamping itu kami tertarik dengan satu slogan dari brader Mst Drift Bakar yang berbunyi "Saya suka bako-membako kerana saya bernama abu bakar..jd mmg dlahirkan untuk membako rakan2 ultralight anglers sampai jdi abu selagi xup gambar..panas x?panas x?..haha"
Bro memang sporting. Terima kasih!
Apa yang pasti pertandingan online ultralight anglers yang julung kalinya di adakan telah mendapat sambutan yang memuaskan hati kami. Ia telah di sertai oleh pemancing dari serata tempat iaitu Malaysia, Brunei, Indonesia, Singapore dan Italy. Yang pasti anda semua telah berusaha keras dan sentiasa memberi respond yang amat kami hargai. Jika ada tersilap atau kekasaran yang kami lakukan semasa menangani isu pernyertaan harap maafkan kami kerana memang kelam-kabut dibuatnya.
Tujuan kami buat event ini bukan hanya untuk suka-suka. Tetapi untuk mendidik kerana di sinilah kita semua dapat meneliti berapa ramai yang benar-benar mengikut rules. Di samping itu kami juga menyeru secara tidak langsung untuk fokus dalam pengambaran supaya ia dapat disimpan sebagai memori. Gambar yang cantik akan memberi kita semangat dan senyuman sampai bila-bila. Dengan adanya semangat bergambar secantik yang boleh kita secara tidak langsung akan mula memberi fokus dalam menjaga ikan dengan cara yang baik dan dapat mendidik anda dalam CNR cara yang sehabis baik. Di sini jugalah kami dapat membentuk anda sebagai pemancing yang beretika dan penuh dengan adap. Adanya etika, hormat dan adap mencerminkan kita sebagai rakyat yang di puji kerana ia culture kita. Inilah bekal yang boleh kita bawa kehadapan untuk generasi yang akan datang. Ini adalah misi kami dan ia sepatutnya menjadi misi anda juga.
Inilah tujuan kami dari suka-suka kepada satu tujuan yang bermisi. Begitu jugalah dengan segala perkara yang kami buat di group. Setiap benda yang kami buat telah di fikirkan sedalam-dalamnya untuk kebaikan semua.
Supportlah kami bukan kerana terpaksa tapi kerana anda memahami kami telah berusaha dengan gigih semata-mata untuk memberi anda ilmu tanpa mengharapkan apa-apa balasan. Kita semua SAHABAT bukan musuh. Buanglah sikap yang menganggap diri itu bagus dan rendahkanlah diri supaya lebih ramai orang menghormati kita. Elakkan berpuak-puak dan mancinglah dengan penuh semangat kerana ia hobi yang murni yang boleh merapatkan kita yang tidak pernah bersua muka.
Kepada pemenang sila PM sy untuk hadiah.
Terima kasih
——————–
We like the support shown by few entries like Mr. Afiq who have sent 7 entries. Very supportive angler. Thank you 🙂
In addition, we are interested with the slogan of brother Mst Drift Bakar that read "Saya suka bako-membako kerana saya bernama abu bakar..jd mmg dlahirkan untuk membako rakan2 ultralight anglers sampai jdi abu selagi xup gambar..panas x?panas x?..haha"
Thank you!
What certain is we received good respond for this online ultralight anglers competition held for the first time and it's really satisfied us. The participants came from all over the place namely Malaysia, Brunei, Indonesia, Singapore and Italy. You have all been working hard and always respond positively and for that we give you thumbs up. If there is a mistake or roughness that we do while addressing the issue of participation please forgive us because it's just too many things to handle and it make us lost focus sometimes.
Our goal for this event is not just for the fun of it. But to educate because this is where we can examine how many anglers are actually following the rules. In addition we urge you to take good photos that can be kept as memories for years. Beautiful pictures will give us the enthusiasm and smile forever. When you have the enthusiasm to take good pictures you will start to focus on handling the fish in a good way. Here, we can then guide you to be ethical and anglers with manners. Ethics reflect your way of life that your future generation will follow. This is our mission and it should be your mission too.
This is our goal from the fun to the mission objectives. So it is with all the things we do in the group. Everything we do have is well-planned activities for future benefits.
So, support us willingly because you understand we have worked hard just to give you the right knowledge.
For the winners please get in touch with us.
Thank you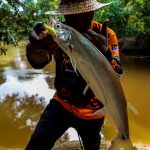 Hey guys! You can call me Kanicen and I'm a nature lover. I spend most of my time outdoor with fishing. I have to admit that I am not an expert but I will do my best to share with you interesting stuffs I know. I love ultralight game which means I live to challenge myself with UNREALISTIC LOGIC for satisfaction.