Why You Should Buy Kanicen Nix – Sengat Ultralight Fishing Rod?
I was fascinated by some of the questions come from several buyers and also from some that wanting to buy SENGAT rod. Some of them are wondering why Sengat was crafted such ways. The answers I gave them are:
Reason 1: Market value
Designed to suit the requirements of the current market fishing style by diversity techniques can be applied. So we designed a rod to suit the majority experience levels while ensuring Sengat rod can give best satisfaction.
Reason 2: Balance in Rod Length and Action
Sengat come with "moderate fast" action so we decided the length (for Spinning is 6'7 and Bait Casting is 6'4) to suit most anglers to avoid having difficulty when casting small lures. The rods also balance nicely with the game it was intended for where the target fish is Indo-Pacific Tarpon. We took months to make a decision on the appropriate length with various on-field-testing.
Reason 3: Suitable with Target Fish
Sengat is the first ultralight rod that has been designed specifically for Indo-Pacific Tarpon. No other rod ever made for this purpose. Commonly used are Trout or Bass rod. Now, Kanicen Nix himself has taken steps to prove different game rod can be created that fits the fish. The rod action will allow the users to enjoy the fight and the rod length will endure the tarpon momentum (and also other fish) when strike.
Reason 4: Soft Bait Game
Moderate fast action rod is very suitable for the "Soft Plastic" game because you can feel the vibration while retrieving. Even soft bite you will feel the vibration. With the existing of bait like "Grenti Strike" then it has to meet the needs of anglers who are now prefer soft plastic as their favorite baits for ultralight fishing. For anglers who like top water lures, we tuned the handle section slightly harder to let you use lures with recommended size max of 5cm and max of 5g lure weight for maximum performance.
Reason 5: Multi-Field Testing
We have made the first prototype more than 2 years ago and since then we keep doing field-testing at various fishing spots until the manufacturer able to satisfy us with the requirements we asked for. It took us 4 different prototypes to finalize and ensure the rod is not only suitable for us but also for market fishing style and experience.
Reason 6: In accordance Various Fishing Style
The rod length is suitable for almost all kind of open fishing locations. We have tried on rivers, streams, open sea, rocks, waterfall and many others and all seem perfect. We tested not only on land but also using boat. It's all good to go.
Reason 7: Distance & Accuracy
Casting distance and accuracy are among the most important factors for most anglers. For that we have tuned the rod to achieve desire distance and also good accuracy. What is certain is moderate fast rod cannot match a fast action rod on distance especially. However, accuracy can be obtained if we begin to understand the rod function completely mainly the use of rod tip to cast the baits/lures. Sengat rod has been made for a very satisfying accuracy because we know it is the most important factor when hunting tarpon.
Reason 8: Sensitivity
The rod sensitivity is simply addictive. Each crank you will feel the movement of the lure / soft plastic even its weighs only 0.5g. So this will help you in getting higher strike rate and more satisfaction than any other rods.
Reason 9: Balance & Matching
Balance and matching is THE fundamentals that we have been advocating from the beginning when we start educating ultralight fishing. The length, action, target fish, game locations, bait used and to suit with the consumer is not an easy thing to do. It requires expertise and determination.
Reason 10: Custom Design & Premium Rod
Specially designed rod (Custom Design) with comparable premium quality branded products. Sengat rod is the result of our hard work for the past 2 years of field testing, blank selection, choosing accessories and etc. Rods have been produced in a very limited amount, 250 rod for spinning, and 50 pieces to BC.
It took more than 2 years (to design and doing RND) to suit the needs of our way of fishing style in Malaysia and also surrounding countries. The rod manufactured according to our requirements and each prototype testing phase is conducted with various fish and also fishing location. All the sweat for over 2 years finally paid off.
What is certain as a rod designer, I've taken a step to start this journey which soon to be followed. We took risks to prove anyone can do it too so be proud as Malaysian. Respect us as the frontier and value all our contributions made so far for the growth in fishing industry.
Thank you 🙂
Note:
All information given is based on a best efforts to express our opinions and knowledge that has been acquired. Paragraph or inappropriate words may have been used and it is out of control because we have tried most wisely. If you have suggestions, please comment. We will make changes.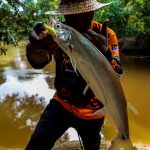 Hey guys! You can call me Kanicen and I'm a nature lover. I spend most of my time outdoor with fishing. I have to admit that I am not an expert but I will do my best to share with you interesting stuffs I know. I love ultralight game which means I live to challenge myself with UNREALISTIC LOGIC for satisfaction.