Ultralight Anglers dari sekitar Rantau Panjang, Kelantan telah menganjurkan event ultralight pertama di Kelantan pada 18 September dan 25 September, 2015. Event ini lebih berkonsepkan mengeratkan hubungan antara kaki pancing sambil bertujuan untuk memperkenalkan sukan mancing ultralight kepada rakan-rakan yang baru berjinak dalam ultralight fishing. Aktiviti yang simple bermula dari Pendaftaran, makan pagi, taklimat, pertandingan dan sesi bergambar.
Penganjur: Joe Rich
Tujuan: Mengeratkan silaturahim bersama semua pemancing lain. Mengeratkan hubungan, berkongsi pengalaman, cara penggunaan gewang, reel serta rod yang sesuai untuk casting.
Tarikh: 18.09.2015 dan 25.09.2015.
Peserta: 10 orang untuk event pertama dan 33 orang untuk event kedua.
Sponsor: Kanicen Nix Soft Baits.
Lokasi: Empangan Bukit Kwong Rantau Panjang dan Taman Tengku Anis, Tumpat, kelantan
Syarat:
1. Mesti mnggunakan umpan tiruan sebab ingin memperkenalkan sukan memancing casting pada caster-caster baru.
2. Casting sahaja.
Kesimpulan: Secara umumnya peserta semua dapat belajar sambil kenal-mengenali antara anglers yang hadir. Dapat pengalaman dan pengetahuan tentang ilmu UL dan sebagainya.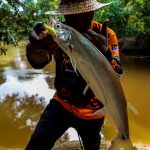 Hey guys! You can call me Kanicen and I'm a nature lover. I spend most of my time outdoor with fishing. I have to admit that I am not an expert but I will do my best to share with you interesting stuffs I know. I love ultralight game which means I live to challenge myself with UNREALISTIC LOGIC for satisfaction.