Mungkin ramai yang tidak pernah mendengar ikan Runtu yang juga dikenali sebagai Haruan Runtu. Ia adalah salah satu species yang amat sukar ditemui dan setakat yang kami ketahui ia berada di Sabah dan Sarawak sahaja. Haruan Runtu tidak besar saiznya dan biasanya digelar sebagai ikan curut tetapi sikapnya yang agresif dan menjaga kawasan membuatkan ia seronok untuk diburu sebagai pemancing.
Ikan ini dikategorikan dalam family Channa yang lebih dikenali sebagai Baram snakehead atau Channa Baramensis yang mendiami air yang gelap dan tenang.
Tips Memahami Habitat Ikan Haruan Runtu
Sebelum menerjah spot ada beberapa perkara anda perlu tahu untuk memburunya. Ia amat penting difahami supaya proses mencarinya menjadi sedikit mudah. Jadi kami nak bagi tips sikit berdasarkan pengalaman sendiri memburu spesis ikan haruan Runtu ini.
Sila baca sambungannya di bawah ini:
http://www.kanicen.com/muhammad-zafri-trip-mancing-memburu-ikan-haruan-runtu-di-sarawak/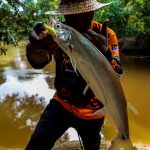 Hey guys! You can call me Kanicen and I'm a nature lover. I spend most of my time outdoor with fishing. I have to admit that I am not an expert but I will do my best to share with you interesting stuffs I know. I love ultralight game which means I live to challenge myself with UNREALISTIC LOGIC for satisfaction.