Perjalanan mencari sebarau bertukar kepada teknik membottom akibat air sungai yang keruh. Ini telah memberi kami peluang untuk mencuba bottom menggunakan setup ultralight. Dikatakan sungai ini terdapat pelbagai spesis ikan yang menjadi idaman kaki bottom seperti ikan baung, temperas, terbul, lais, selat dan macam-macam lagi.
Ikan temperas kian dilupakan kerana bukan mudah untuk mencarinya lebih-lebih lagi di kawasan bandar seperti Kuala Lumpur atau pun Selangor. Ikan ini amat diminati oleh kaki bottom kerana ada yang mengatakan isi nya sedap untuk di makan walaupun tulang yang banyak.
Baca cerita selanjutnya di:
http://www.kanicen.com/hairz-zer-rindu-sebarau-terubat-dengan-ikan-temperas/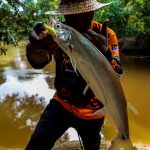 Hey guys! You can call me Kanicen and I'm a nature lover. I spend most of my time outdoor with fishing. I have to admit that I am not an expert but I will do my best to share with you interesting stuffs I know. I love ultralight game which means I live to challenge myself with UNREALISTIC LOGIC for satisfaction.