Jika ditanya pendapat saya kenapa saya jatuh cinta pada teknik pancingan ultralight?
Jawapan yang sangat mudah kerana saya inginkan kepuasan yang simple tanpa memaksa diri ketika mencari strike. Memang agak kekok pada mulanya apabila beralih daripada penggunaan rod heavy kepada ultralight. Macam-macam terjadi contohnya gewang jangan cakaplah, banyak yang jadi korban. Tapi itu semua bukan punca pematah semangat. Banyak juga mencari artikel untuk bacaan rujukan tapi sekadar bacaan bukanlah ilmu itu muktamad. Kata orang..
Ilmu paling bermakna ialah pengalaman dan sahabat
Alhamdulillah mula mengenali Kanicen Nix bukan kenal sangat pun tapi insan ini ada keistimewaan kerana beliau tidak lokek ilmu. Mula follow Facebook Kanicen Nix dari situ saya belajar matching and balance yang betul. Bukan senang nak…
Baca artikel selanjutnya disini:
http://www.kanicen.com/zamisma-abu-kemaruk-pancingan-ultralight-yang-tiada-jalan-keluar/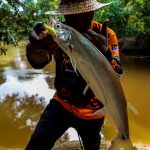 Hey guys! You can call me Kanicen and I'm a nature lover. I spend most of my time outdoor with fishing. I have to admit that I am not an expert but I will do my best to share with you interesting stuffs I know. I love ultralight game which means I live to challenge myself with UNREALISTIC LOGIC for satisfaction.