Pfleuger Patriach 9525 setakat ini adalah reel yang kami terbaik untuk penggunaan dalam Ultralight Fishing. Dengan keringanan 158g (5.6oz) antara reel teringan dunia untuk size 1000 memberikan pengguna kebebasan yang tiada batasan apabila casting.
Reel ini direka untuk memberikan pengendalian ringan dan direka untuk ketahanan yang lasak dengan bahan termaju dan berkualiti tinggi. Reel yang Ultra ringan, badan magnesium, teknologi rotor dan sideplate yang dilindungi dengan 3 lapisan proprietari yang bersedia terhadap rintangan hakisan dan memberikan ketahanan. Shaftnya yang direka khas dengan solid titanium adalah 30% lebih kuat dan 43% lebih ringan daripada shaft yang setanding dengan stainless steel. Pemegang karbon dengan EVA knob adalah 20% lebih ringan daripada pemegang aluminium yang setanding. Sistem drag karbon disealkan dan titanium line roller yang lasak membolehkan ikan ditewaskan.
Spesifikasi Ringkas:
Drag: 8lb
Gear Ratio: 5:2:1
Retrieve Rate: 24.5
Bearing Count: 10
Mono Capacity yd/lb: 230/2 110/4 90/6
Mono Capacity m/mm: 210/0.13 100/0.20 80/0.23
Braid Capacity yd/lb: 150/4 110/6 90/8
Braid Capacity m/mm: 180/0.16 130/0.19 100/0.22
Spare Spool Material: Aluminum
Anti-Reverse Feature: Instant Anti-Reverse
Stainless steel bearings
On/Off instant anti-reverse bearing
XCR bearings in key locations
Ultra lightweight magnesium body, rotor, and sideplate
Lightweight aluminum spool with carbon arbor
Sealed carbon fiber drag system
Solid aluminum bail wire
Sure-click bail provides an audible signal when bail is fully opened and ready to cast
Anti-twist titanium line roller
Lightweight carbon handle
Durable EVA knob
Solid titanium main shaft
Aluminum spare spool
Neoprene protective bag
Convertible Left and Right hand retrieve
Reel ini direka sesuai hanya untuk Freshwater bukan untuk Saltwater. Jika anda menggunakan untuk saltwater atau air payau pastikan bilas secepat yang boleh bagi mengelakkan hakisan terhadap body magnesium dan bearings.
Personal Review:
Saya telah membeli sebanyak 3 biji dan telah menggunakan reel ini sejak 2010 dalam pelbagai lokasi pancingan termasuk laut dan air muara. Bilasan awal sejurus lepas guna dan maintenance simple membuatkan reel ini bertahan sehingga kini dan tidak pernah memberi masalah major. Hanya satu sahaja isu yang saya lalui iaitu Bail Arm Spring yang rosak akibat sentapan tersangkut. Bail Arm Spring amat mudah didapati di services center. Hanya RM5.
Bagi saya Pfleuger Patriach 9525 adalah reel yang paling ideal untuk ultralight casting dan amat balance dengan setiap rod yang pernah saya gabungkan. Reel yang harus dimiliki dan reel yang berkualiti tinggi pada harga yang amat mampu milik iaitu dalam RM350-RM380 dengan 1 spool extra yang boleh memuatkan tali sepanjang 220 – 280 meter. Akan tetapi ada kedai yang menjual sehingga RM500+.
Note:
Segala informasi yang diberi adalah berdasarkan best efforts untuk meluahkan pendapat dan ilmu yang telah diperolehi. Ayat atau perkataan yang tidak sesuai mungkin telah digunakan dan ia adalah luar kawalan kerana kami telah mencuba sehabis baik. Jika ada cadangan sila komen. Kami akan membuat perubahan.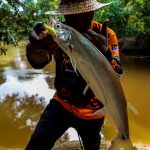 Hey guys! You can call me Kanicen and I'm a nature lover. I spend most of my time outdoor with fishing. I have to admit that I am not an expert but I will do my best to share with you interesting stuffs I know. I love ultralight game which means I live to challenge myself with UNREALISTIC LOGIC for satisfaction.