Grenti Strike – Candy adalah produk keluaran orang Malaysia brand Kanicen Nix. Pelbagai usaha telah dijalankan untuk memastikan segala produk keluar kami adalah terbukti di lapangan. Di sini kami ingin share segala hasil yang telah diperolehi oleh pengguna-pengguna dari segala jenis pancingan dan dari serata lokasi.
Produk Grenti Strike – Candy telah menunjukkan prestasi yang amat membanggakan. Hampir segala jenis ikan yang biasa di target oleh pemancing telah berjaya dinaikkan. Setakat ini kami masih memperolehi 100% results bersih dimana setiap pembeli mendapat strike.
Kami berharap anda akan terus menyokong satu-satunya produk soft baits brand orang Malaysia. Tanpa sokongan terus dari kawan-kawan dan dari pembeli seluruh Malaysia dan luar negara tidak mungkin kami akan dapat mengharumkan nama negara dalam industri mancing.
Kami akan terus menambah gambar hasil dari semua pengguna produk kami di dalam album ini dari masa ke semasa.
Segala informasi yang diberi adalah berdasarkan best efforts untuk meluahkan pendapat dan ilmu yang telah diperolehi. Ayat atau perkataan yang tidak sesuai mungkin telah digunakan dan ia adalah luar kawalan kerana kami telah mencuba sehabis baik. Jika ada cadangan sila komen. Kami akan membuat perubahan.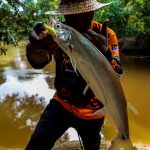 Hey guys! You can call me Kanicen and I'm a nature lover. I spend most of my time outdoor with fishing. I have to admit that I am not an expert but I will do my best to share with you interesting stuffs I know. I love ultralight game which means I live to challenge myself with UNREALISTIC LOGIC for satisfaction.