Ikan sebarau atau dikenali juga sebagai Hampala adalah sejenis ikan serigala sungai yang amat diminati oleh kaki casting. Tidak kira saiz walaupun curut ia tetap memberi tentangan yang hebat. Pelbagai pengalaman dapat kita dengar dari kaki sebarau akan kekuatannya yang tiada tolok bandingan.
Teknik memburu sebarau bergantung pada setiap invidividu dan juga kawasan. Ada kawasan penggunaan gewang amat sesuai kerana ia dietn yang sesuai dengan kawasan itu tetapi ada kawasan gewang hard bait seperti sinking minnow, pencil bukan dietnya. Ia lebih menggemari hard bait seperti spoon.
Baca artikel selanjutnya di sini:
http://www.kanicen.com/renangan-micro-spoon-kanicen-nix-red-eye-5g-memukau-ikan-sebarau-serigala-sungai/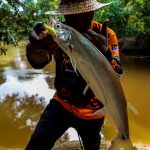 Hey guys! You can call me Kanicen and I'm a nature lover. I spend most of my time outdoor with fishing. I have to admit that I am not an expert but I will do my best to share with you interesting stuffs I know. I love ultralight game which means I live to challenge myself with UNREALISTIC LOGIC for satisfaction.