Jumaat, 17 ogos 2018. Saya dan sahabat saya Ky Reii telah pergi satu trip memancing spesies dasar yang agresif. Oleh kerana sering kali tercabar dengan keganasannya berdasarkan pengalaman yang lalu membuatkan saya ingin menduga kembali spesies bermisai ini menggunakan setup yang berlainan.
Mengenali Ikan Baung
SPESIES Hemibagrus Nemurus atau lebih kita kenali sebagai ikan Baung merupakan spesies ikan air tawar yang datang dalam keluarga ikan bermisai (catfish).
Spesies ikan baung ini tergolong dalam keluarga besar Bagridae dan dalam genus Hemibagrus. Nama lain bagi baung ialah Yellow Catfish (baung pisang / baung kuning) dan river catfish (baung sungai).
Perjalanan
Jam 8.30pagi, kami berdua berkumpul dipekarangan halaman rumah saya dan memutuskan untuk pergi dengan menunggang motosikal ke spot memancing. Oleh kerana jalan yang bercuram dan keadaan yang tidak rata ia akan menyukarkan jika menggunakan kereta untuk masuk.
Baca cerita selanjutnya di link ini:
http://www.kanicen.com/amir-jufri-ketuk-dasar-menduga-pak-misai-dengan-rod-kanicen-nix-sailang/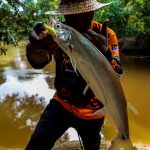 Hey guys! You can call me Kanicen and I'm a nature lover. I spend most of my time outdoor with fishing. I have to admit that I am not an expert but I will do my best to share with you interesting stuffs I know. I love ultralight game which means I live to challenge myself with UNREALISTIC LOGIC for satisfaction.