Pengalaman memancing ikan Sikang dengan anak adalah satu pengalaman baru untuk saya. Kanicen Nix Ryan adalah anak pertama saya yang sentiasa ingin mengikut saya kemana-mana sahaja jika ia melibatkan mancing.
Trip kali ini saya membawa keluarga berpicnic di salah satu sungai sekitar Jelebu, Negeri Sembilan. Ketika menyiapkan setup pancing anak saya bertanya "pa nak ikut boleh?" dengan ayat pelatnya membuatkan saya tersengih.
Puas juga dok fikir macam mana nak bawa Ryan yang ketika itu berumur 1 tahun 7 bulan. Arus yang agak deras dan tidak sesuai untuk budak-budak berumur sepertinya untuk meranduk.
Saksikan video pengalaman saya memancing ikan Sikang bersama anak di video ini dengan umpan aliran jeram kegemaran saya iaitu Silau spoon digabungkan dengan tali pancing Halus dan rod Kaki Bako.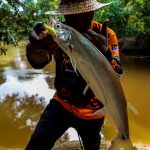 Hey guys! You can call me Kanicen and I'm a nature lover. I spend most of my time outdoor with fishing. I have to admit that I am not an expert but I will do my best to share with you interesting stuffs I know. I love ultralight game which means I live to challenge myself with UNREALISTIC LOGIC for satisfaction.