Perkongsian oleh Mizan Zaid bagaimana proses manual hot stamping jigs bagi jig anda yang telah rosak atau kusam. Tips ini berdasarkan pengalaman yang ada jadi jika ada kekurangan mohon tunjuk ajar. Moga ilmu yang dikongsikan ini bermanfaat.
Jangan lupa subscribe channel MizAngler Channel 🙂
Kredit: Mizan Zaid
Nota:
Segala informasi yang diberi adalah berdasarkan best efforts untuk meluahkan pendapat dan ilmu yang telah diperolehi. Ayat atau perkataan yang tidak sesuai mungkin telah digunakan dan ia adalah luar kawalan kerana kami telah mencuba sehabis baik. Jika ada cadangan sila komen. Kami akan membuat perubahan.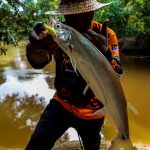 Hey guys! You can call me Kanicen and I'm a nature lover. I spend most of my time outdoor with fishing. I have to admit that I am not an expert but I will do my best to share with you interesting stuffs I know. I love ultralight game which means I live to challenge myself with UNREALISTIC LOGIC for satisfaction.