Di Malaysia terdapat pelbagai spesis ikan yang amat digemari oleh pemancing-pemancing. Bagi peminat sukan ultralight fishing terdapat beberapa jenis ikan yang amat mereka gemari dan ia menjadi target yang harus dipancing sebagai tropi disamping memberi kepuasan yang maxima.
Antara ikan-ikan yang menjadi target ialah:
1. Toman
2. Haruan
3. Peacock Bass
4. Bulan / Tarpon
5. Bandang / Ladyfish
6. Siakap / Barramundi
7. Sebarau / Hampala
8. Tilapia / Cichlids
9. Tengas
10. Patin
11. Kerapu
12. Baby GT
13. Puyu
14. Jelawat
15. Ebek
16. Red Tail
17. Rohu
18. Red Monk
19. Pacu
20. Senangin Taiwan
21. MJ – Mangrove Jack
22. Belida / Clown Fish
23. Kerandang
24. Kerong
25. Bujok
26. Ketutu
27. Keli
28. Baung
29. Kerapu Lombong
30. more will come…
Jika anda merasakan ada ikan lain yang boleh dimasukkan sebagai ikan peberet pemancing ultralight di Malaysia sila komen dibawah. Kami akan sentiasa update post ini.
Segala informasi yang diberi adalah berdasarkan best efforts untuk meluahkan pendapat dan ilmu yang telah diperolehi. Ayat atau perkataan yang tidak sesuai mungkin telah digunakan dan ia adalah luar kawalan kerana kami telah mencuba sehabis baik. Jika ada cadangan sila komen. Kami akan membuat perubahan.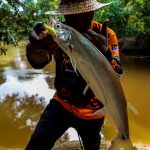 Hey guys! You can call me Kanicen and I'm a nature lover. I spend most of my time outdoor with fishing. I have to admit that I am not an expert but I will do my best to share with you interesting stuffs I know. I love ultralight game which means I live to challenge myself with UNREALISTIC LOGIC for satisfaction.