Simple tutorial on how to rig Grenti Strike Geli-Geli Softbait by Kanicen Nix. We also show there are few ways to use it.
Tutorial cara mudah memasang umpan Grenti Strike Geli-Geli. Kami share beberapa cara pasang & di mana anda boleh guna umpan ini semasa memancing.
Note: Cara yang sama anda boleh pakai untuk Brudu & umpan-umpan lain yang ada dipasaran.
Please share if you feel this video on How to Rig Geli-Geli Softbait suitable for others.
Share jika anda rasa ilmu cara memasang umpan geli-geli ini sesuai untuk rakan-rakan anda.

Terima kasih 🙂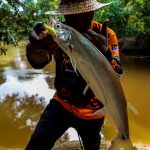 Hey guys! You can call me Kanicen and I'm a nature lover. I spend most of my time outdoor with fishing. I have to admit that I am not an expert but I will do my best to share with you interesting stuffs I know. I love ultralight game which means I live to challenge myself with UNREALISTIC LOGIC for satisfaction.