Split Ring:
Penggunaan split ring yg berkualiti amat lah disarankan kerana split ring yg ekonomi akan mudah lengkang setelah berkali2 jig, swivel solid ring dimasukan kedalamnya, risiko kehilangan jig akibat terkeluar dari split ring boleh berlaku ataupun ia akan terkangkang jika tekanan berlaku terlalu tinggi ketika bertarung dgn ikan.
Solid Ring:
Tidak perlu yg berkualiti dan mahal kerana solid ring yg murah juga mempunyai kekuatan yg sama, bezanya hanya pd ketebalan diameter sahaja, namun ianya hampir tiada kesan kepada aksi jig yg dimainkan atau apa2 aspek lain.
Kevlar:
Kevlar semahal mana pun tetap akan putus jika ianya terkena bahagian gigi ikan Tenggiri, Baracuda atau apa spesis pun yg bergigi tajam, oleh itu tiada jaminan kevlar dari mana-mana jenama atau fabric yg dikatakan baik dan kuat.
Kredit: Indra Irwan Ismail (Daiwa Malaysia Ambassador)
Nota:
Segala informasi yang diberi adalah berdasarkan best efforts untuk meluahkan pendapat dan ilmu yang telah diperolehi. Ayat atau perkataan yang tidak sesuai mungkin telah digunakan dan ia adalah luar kawalan kerana kami telah mencuba sehabis baik. Jika ada cadangan sila komen. Kami akan membuat perubahan.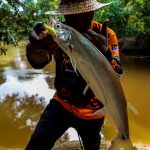 Hey guys! You can call me Kanicen and I'm a nature lover. I spend most of my time outdoor with fishing. I have to admit that I am not an expert but I will do my best to share with you interesting stuffs I know. I love ultralight game which means I live to challenge myself with UNREALISTIC LOGIC for satisfaction.