Mekasih pada yang support. Hasil usaha bertahun-tahun. Semua ini berlaku kerana kami di sini berusaha untuk mendidik semua anglers di malaysia. Apa pon semua ini tidak bererti jika tiada support dari rakan-rakan yg sama-sama berjuang. Walaupun ada yang kini berjauhan tetap bagi saya tanpa mereka tiada saya. Tanpa anda tiada saya dan tidak mungkin kita dapat meletakkan nama Malaysia di map ultralight fishing industry.
Tidak kira apa pun status saya, yang penting saya manusia biasa sahaja seperti anda semua. Anda juga mampu memberi sumbangan jika berusaha tanpa mengenal erti jemu. Bagi saya apa yg penting kita semua harus bergabung. Unite as a brotherhood barulah kita dapat memajukan sukan memancing ini. Elakkan berpuak-puak dan elakkan politik dalam arena pancing. Ini adalah hobi kita yang harus di nikmati sebaik yang boleh sambil menjaga environment (termasok kebersihan, ikan dan diri).
Terima kasih kepada Majalah Umpan kerana memberi credits atas usaha ini. Terima kasih juga pada Pure Fishing Malaysia yang always memberi support kepada semua event-event ultralight di Malaysia. Credits ini saya juga share bersama-sama dengan semua Admin saya seperti Zamisma Abu, Onie Kurnia, semua testers seperti Ridzuwan Muhd ​​Ibrahim, Ibnu Rashid, Mohd Huzairy, Thava Prasanth, MK Brigade Melaka. Mereka ini tidak pernah serik membantu. Tidak lupa pada semua kawan-kawan lain yang tidak pernah jemu membantu dan menyokong saya. Anda semua memang terbaik!
Local brand akan maju jika kita semua bergabung secara sihat. Jangan lupe beli Majalah Umpan yer hehehe 😀
Terima kasih.
#kanicennix
#ultralightanglers
#ultralightfishing
#grentistrike
#abugarcia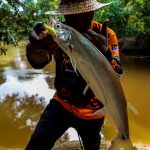 Hey guys! You can call me Kanicen and I'm a nature lover. I spend most of my time outdoor with fishing. I have to admit that I am not an expert but I will do my best to share with you interesting stuffs I know. I love ultralight game which means I live to challenge myself with UNREALISTIC LOGIC for satisfaction.