Topik kali ini lebih pada kelakuan kebanyakan pemancing setelah atau semasa membeli rod. Maaf jika video agak berterabur. First time buat video macam ni hahaha 😛 berdebar-debar. Apa pun saya berharap anda dapat ilmu dari video ini yang boleh menyelamatkan anda kehilangan duit akibat kesilapan dalam menguji rod ultralight. Teknik ini bukan sahaja akan memberi kesan pada rod ultralight tetapi juga pada semua jenis rod.
Insyaallah kami akan buat video cara-cara yang betul untuk menguji rod ultralight anda yang boleh digunakan semasa membeli rod pancing anda.
Mekasih 🙂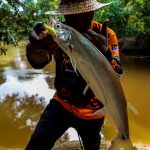 Hey guys! You can call me Kanicen and I'm a nature lover. I spend most of my time outdoor with fishing. I have to admit that I am not an expert but I will do my best to share with you interesting stuffs I know. I love ultralight game which means I live to challenge myself with UNREALISTIC LOGIC for satisfaction.